Clean-Boardz - Style
Posted: Tue Sep 25, 2018 8:40 pm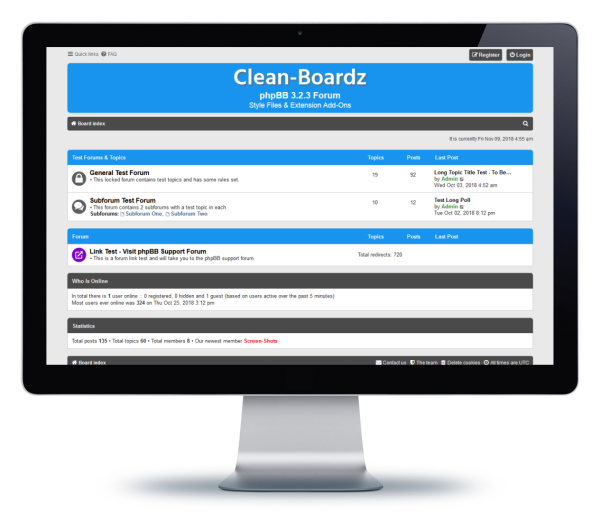 Clean-Boardz - Style:
A clean looking style which had lots of time put into making sure it still looks clean even on small 300px phone screens, this latest version of the style has several improvements, including, an improved icon set including for PM's, adjustments to make sure it's RTL compatible, online/offline icons next to the username instead of images over the avatar, subscribe topic button moved from the navbar, improved poll view and the style now uses template inheritance.
For a more detailed list, see the bottom of this post.
Style Details:
•
Name:
Clean-Boardz
•
Author:
Dan Stylez
•
phpBB Version:
3.2.3
•
Template Inheritance:
Yes
•
Style Colour Sheets Included:
26
•
Validation Status:
Submitted
•
Previously Validated:
Yes, for phpBB 3.2.2
•
Changes To Previously Validated Version:
Listed below.
Detailed Changes From phpBB 3.2.2 Version:
• 25 Extra style colour sheets, each colour has 2 style sheets, 1 has black stat blocks, the other has matching stat blocks.
• Favourites icon removed.
• New icon set.
• Global announcement icons and PM read/unread icons added.
• Slight adjustment to the default blue colour.
• Post background colour changed slightly.
• Forum rules background adjusted.
• Online and offline images changed to icons next to username to allow bigger avatars.
• Control panel backgrounds added to make it stand out more.
• Post formatting button colours slightly changed.
• Improved poll view in topics.
• Poll title and quick reply title font size changed.
• Subscribe forum button moved from navbar to a box next to forum display options box, like the subscribe topic button.
• Couple of slight improvements to the view on smaller screens.
• Clock icon added next to time zone in the bottom navbar.
• Post links and signature links adjusted.
• Signature changed to inline block so that it doesn't be to close to attachments.
• Notifications drop down box improved.
• Logo changes to a smaller version on small screens.
• Quick style guide updated to show how to change the logos and style colour sheets.
• Login and Register links at the top of the forum have been changed to buttons.
• RTL Compatible.
• The style now uses template inheritance.
Included Style Colour Sheets:
• Original. (light blue)
• Brown.
• Dark Blue.
• Gold.
• Green.
• Grey.
• Lime Green.
• Orange.
• Pink.
• Purple.
• Red.
• Teal.
• Fancy Purple. (purple gradient)
Last Updated:
Tuesday 13th November 2018.